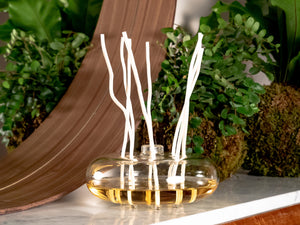 MICONIC the mykonos iconic style
Round - Glass container for reed diffusers
Sale price Price $149.00 Regular price
Tax included. Free shipping.
Following our desire to create objects that are as ornamental as they are functional, our fragrance diffuser Round it's sure to leave a mark in every type of ambience. Its original design by Francesco Paretti symbolises a mythical fountain of scent, and the see-through surface makes it light and airy, revealing the true colour of the perfume inside. Natural wood sticks absorb the fragrance and release it slowly in the air, for long-lasting and effective diffusion. Round is made of blown borosilicate glass (borosilicate 3.3) and it's handcrafted in Italy, a further testament to its quality and longevity.
Included: natural wood sticks
Size: Depth: 150mm x Height: 70mm
Fragrance sold separately.