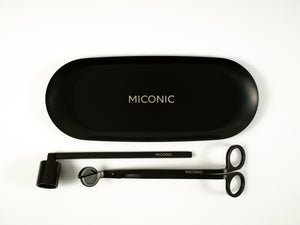 MICONIC the mykonos iconic style
MICONIC Candle Care Kit
Sale price Price €65,00 Regular price
Tax included. Free shipping.
These black metal accessories are the perfect tools to take care of your MICONIC scented candle and ensure an outstanding experience. Use the candle snuffer to extinguish the flame safely and in style. Trim the candle's wick before each use with the wick trimmer. Keep this practical set always at hand with the MICONIC candle tray.
MICONIC Candle Care Kit contains one Tray, Candle Snuffer & Wick Trimmer. Material: Black metal laser engraved aluminium. It comes with a black velvet bag.