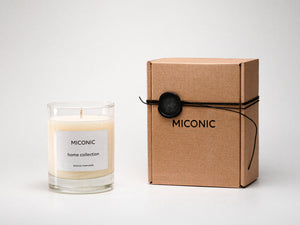 MICONIC the mykonos iconic style
MICONIC bougie parfumée
Sale price Price €65,00 Regular price
Tax included. Free shipping.
In our scented candles, Greek inspiration meets the equally legendary Italian craftsmanship. The complex scent of the Cyclades is condensed in limited edition candles handmade in the heart of Rome, on an ancient street where artisanal techniques are still in use today.

The Miconic candles come in a crystal clear glass vase and contain 220gr of pure soy wax. They are vegan and cruelty-free.
Available fragrances:
Armenistis. Intense Mediterranean notes of aromatic herbs and sweet'n'tangy perfumes of fields in full bloom around the lighthouse of Armenistis. An alchemic blend of eucalyptus, nagarmotha and agar wood.
Rhenia. A fragrance that glows as the skin of young lemons and feels as fresh as handpicked kumquats. Bergamot, neroli, and amber seeds give a warm nourishing feeling, like the light of the sunset behind the islet of Rhenia.
Kato Mili. Salty notes of seaside windows dried out in the sun blends with floral scents from vases of roses and geraniums dressing the houses' fronts and the woody breeze blown through the windmills of Kato Mili.
Paraportiani. Memories of eastern rituals and precious woods burned to yield aromas. Like the Byzantine incense wafting from the church of Paraportiani.